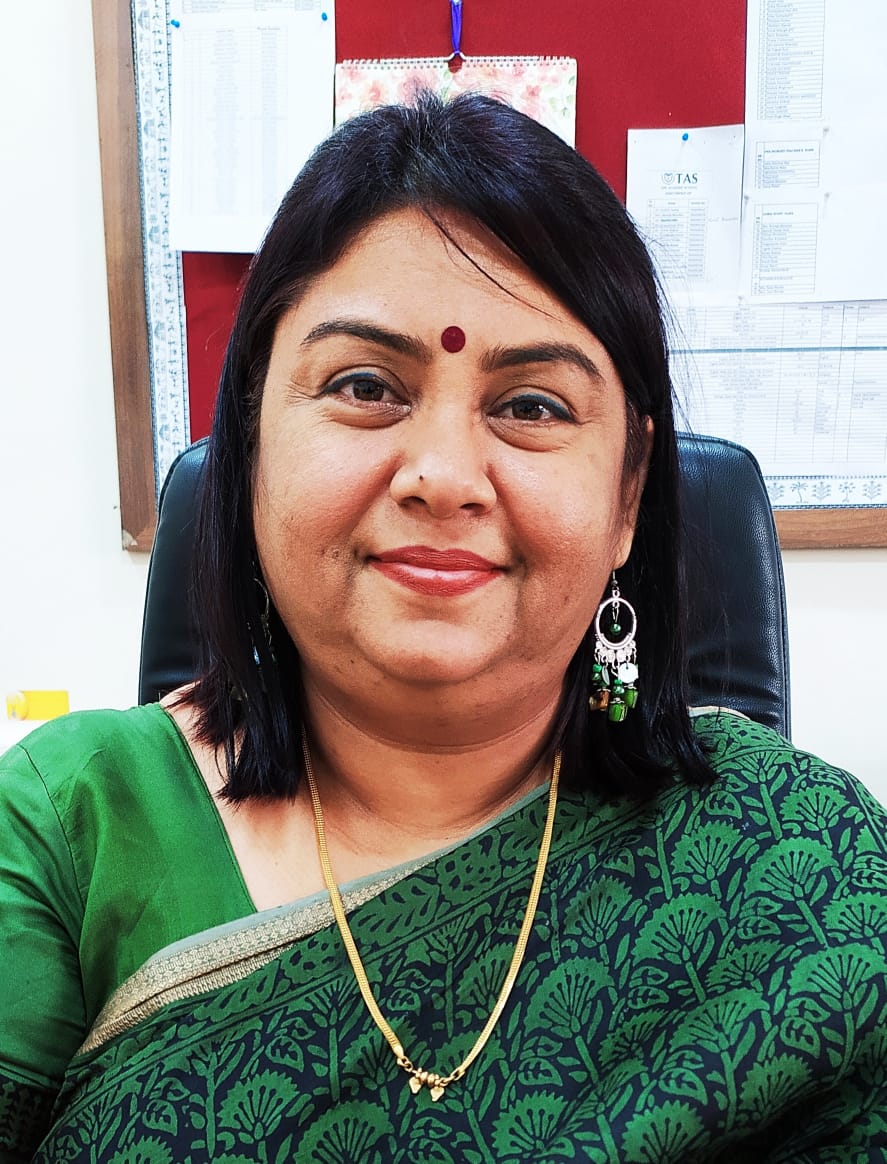 Mrs. Saroj Raman
Principal At TAS, Pune
From The Principal's Desk
Khalil Gibran says- "The teacher who is indeed wise does not bid you enter the house of his wisdom but rather leads you to the threshold of your mind."
Over the years, as I worked with learners in the capacity of their friend, philosopher, and guide, the thought that remained central to all initiatives was keeping transactions in class and beyond as relevant, consequential, and inspirational. The essentiality of mindfulness- in planning and execution levels is the critical point. The learners imbibe whole-heartedly the knowledge that we impart, skills that we help nurture, and the empathy, discipline, honesty, and integrity that we promote in their true spirit and virtue. The culture of progressive growth mindsets is the way forward, and who better would know this than us who live in a world that is so unlike the one we grew up in. At TAS, we strive to stay in sync with the ever-changing demands of the fast-paced ecosystem of learners, facilitators, and their environment. We stand committed to optimizing the use of available resources, especially the plethora of digitalized learning platforms that support the diverse learning needs of all students as they traverse through their academic journey.
Colin Powell once said- "If you will achieve excellence in big things, you develop the habit in little matters. Excellence is not an exception, it is a prevailing attitude." At TAS, we celebrate this attitude as we strive together for a just society with the shared understanding that our behaviors impact our community. We understand the need to sensitize our learners to a futuristic approach in this age of globalization, diversity, and inter-dependence, where collaboration is the key to transformative thinking. As educators, I firmly stand by the philosophy that our role is incomplete if we do not infuse optimism, ingenuity, and a sense of responsibility in our community. The conscientious pursuit of excellence implores us to accelerate our purposeful impact globally through respect for diversity, accountability for actions, and integrity in all our dealings with our community. Amidst all of this, we take pride in maintaining the motto #HappyAtSchool and rejoice in the moments of lingering smiles and unstoppable giggles of our learners.
The path forward seems arduous, but together we look forward to a dream- a collective vision of transformation and sustenance with undeterred commitment and passion. The unwavering support of our dependable community of parents and the unstinted cooperation of the management are crucial to our ventures as we work zealously towards our goals and aspirations. Together we strive to build an invincible force of committed young minds who shall accelerate not just the process of creating knowledge but also ensure that its application helps tackle the problems that humanity faces today, with a fair understanding of civic responsibility, access, and inclusion.